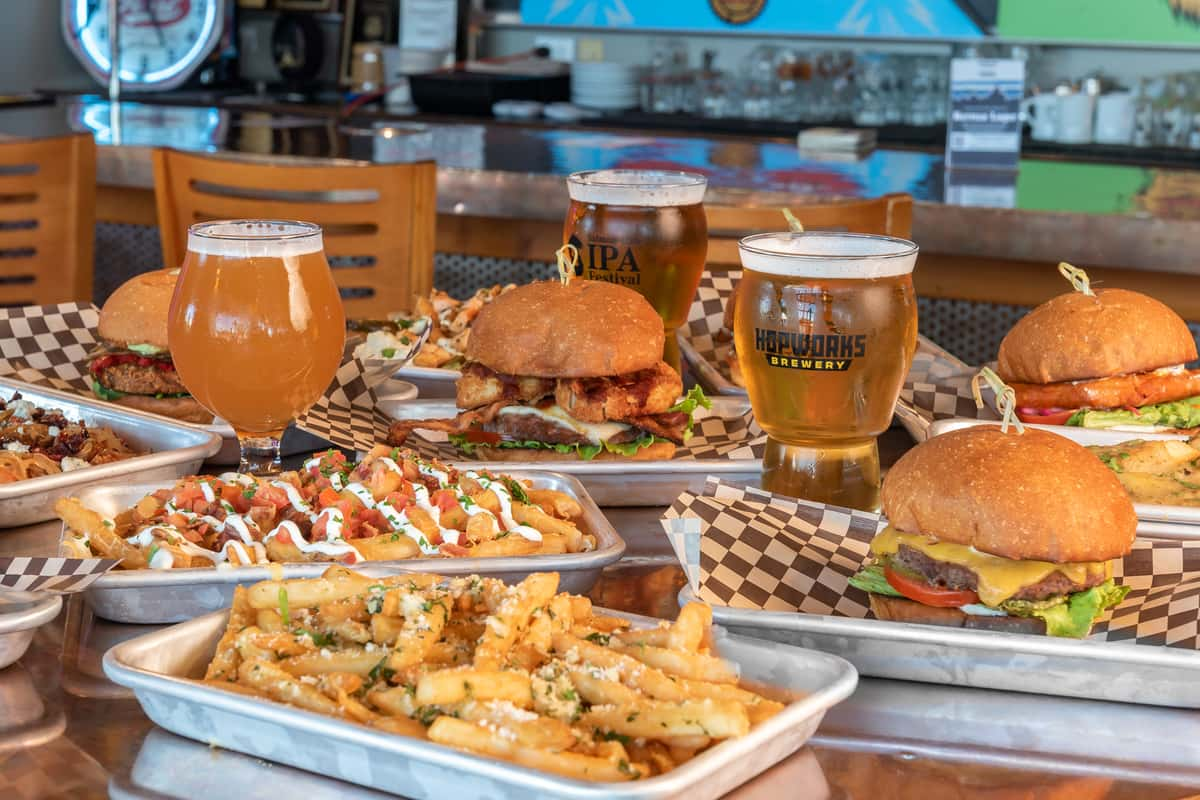 Drinking Rain
Drinking Rain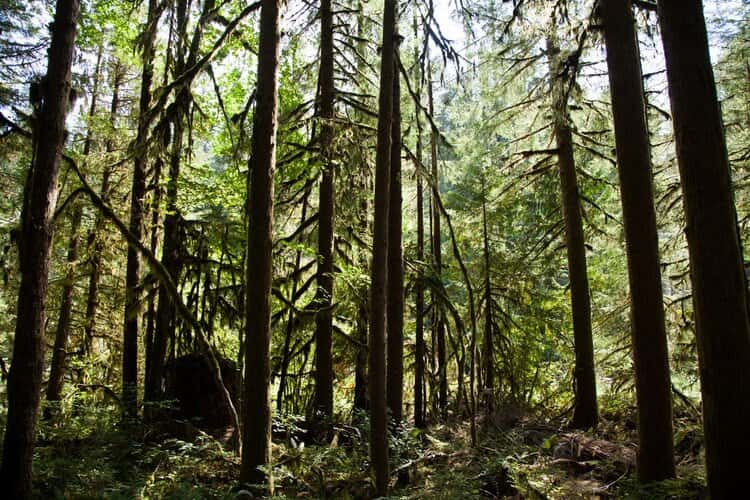 When you're downstairs in the brewery, if you talk about gravity, you're talking about a set of numbers that reveal the alcohol content of the beer you're brewing. But when it comes to Portland's water source, the word gravity reflects the more traditional meaning: Our water flows downhill from its source to the faucet making it one of just a few almost-entirely gravity fed systems in the country.
This all started in 1886 when Colonel Isaac Smith's survey party ventured into the foothills of the Cascades to locate the perfect source of water for the city of Portland. He and his team returned months later with a map and a plan to capture the pristine water of the Bull Run Watershed and let it flow in through an elaborate system of pipes all the way to town.
It's no secret we have amazing water in Portland. It's pure, it's clean, it's soft and refreshing. Rain filters its way through the forest to the lake and then to a series of reservoirs before entering the pipeline water slide that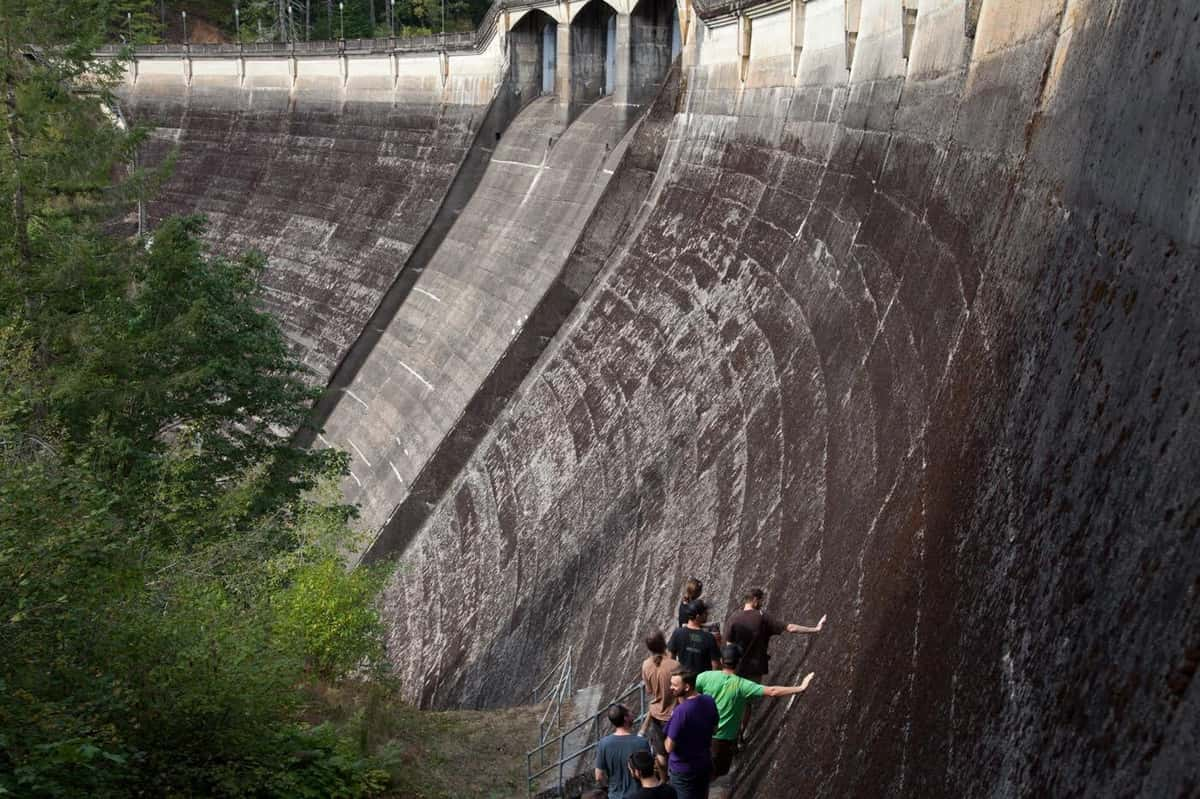 "TOURING BULL RUN WAS A RARE PRIVILEGE AND A BEAUTIFUL SURPRISE. IT BROUGHT CLARITY TO THE CHALLENGES OF SUPPLYING A GROWING CITY WITH AMAZING, NATURALLY FILTERED WATER. IT IS INCUMBENT UPON US TO GUARD THIS PRECIOUS RESOURCE THROUGH ENVIRONMENTAL STEWARDSHIP AND CONSERVATION."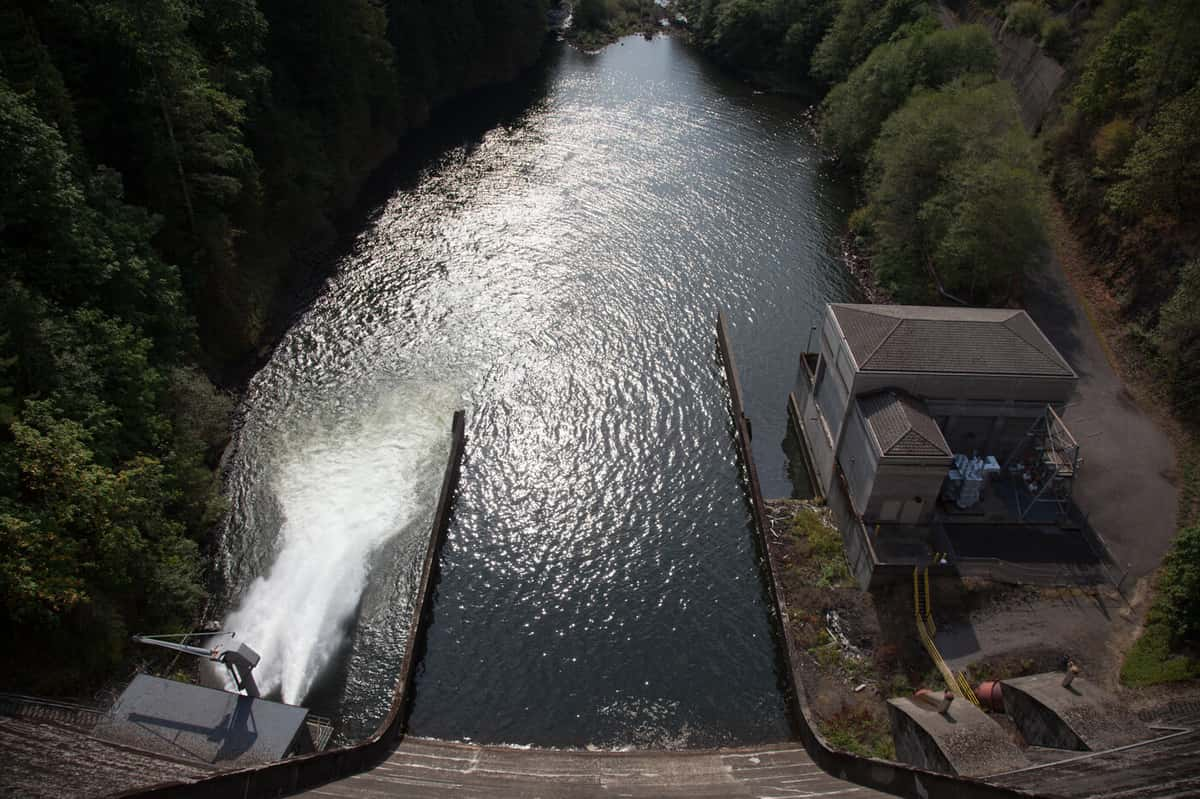 Recently, nine members of the Hopworks brewing team traveled to the land of sky blue waters to see the Bull Run reservoirs. Christian Ettinger, HUB brewmaster and founder said he wanted to better understand one of the key ingredients to the beers we brew.
"My body is 60% water and beer is 90% water. I'm striving to become more like beer every day," Christian joked. He went on, "Brewers recognize the relationship between clean, abundant water and great beer. Touring Bull Run was a rare privilege and a beautiful surprise. It brought clarity to the challenges of supplying a growing city with amazing, naturally filtered water. It is incumbent upon us to guard this precious resource through environmental stewardship and conservation."
Our guide Briggy Thomas from the Portland Water Bureau informed us with histories and details about the watershed. There are about 102 square miles of hills, trees, and moss that drain into the reservoirs. Over half of the forest that forms a protective shield around Bull Run is old growth forest. The reservoirs hold about 17 billion gallons of water, and receive about 130 inches of rain fall each year. For comparison, while we may think Portland is a very rainy city, we receive 35-40 inches of rain per year according to our guide.
960,000 people are served by the Bull Run's soft water in the Portland region. During the height of the summer, Portland's ground water system, which holds more than 200 million gallons, also pitches water into the mix. Since 1998, the demand for water has plateaued even though the population continues to grow in the region. This is good news for Bull Run, and is attributed to the rise of high efficiency machines in households.
We're doing our part as well. Brewing beer can be a water intensive process, so we cut our water use by installing efficient equipment. Our heat exchange system allows us to re-capture clean water that we have used to cool down our boiled wort and re-use it in other parts of the brewing process. The recent installation of a Cleaning In Place Skid allows us to reuse our tank cleaner up to five times, and our new centrifuge saves us roughly 100 gallons of water per day. These improvements bring our water level down to 3.39 gallons of water per gallon of beer, which is half the industry average.
WHEN YOU SIP HOPWORKS BEER, YOU CAN REST ASSURED IT'S MADE WITH SOME OF THE PUREST WATER AVAILABLE IN A SITE THAT'S BUILT WITH STEWARDSHIP IN MIND. WHAT STARTED AS A RAINDROP, MAYBE PART OF A WINTER DELUGE UP IN THE MOUNTAINS THIRTY OR FORTY MILES AWAY, HAS BEEN CAREFULLY TRANSFORMED INTO A HUB IPA OR ANY ONE OF OUR OTHER BEERS. TIME TO GO DRINK MORE RAIN.
We are intentional about supporting local and national water advocates, such as the Oregon Brewshed Alliance, who work to protect important forests that filter our water and keep it clean, pure, and cold. We also make use of Salmon-Safe Certified hops in a number of our beers.
These hops are grown on farms that have committed to practices that protect local watersheds. Most recently our brewing site on Powell Blvd became the first Salmon-Safe Certified brewing site in the world. The certification is based on an assessment that considers the overall development and maintenance practices of stormwater management, water use management, chemical and pesticide reduction, water quality protection, and enhancement of urban ecological function. The certification includes an annual review to ensure the site reaches the goal of treating one-hundred percent of stormwater on site over five years, up from the current twenty-five percent.