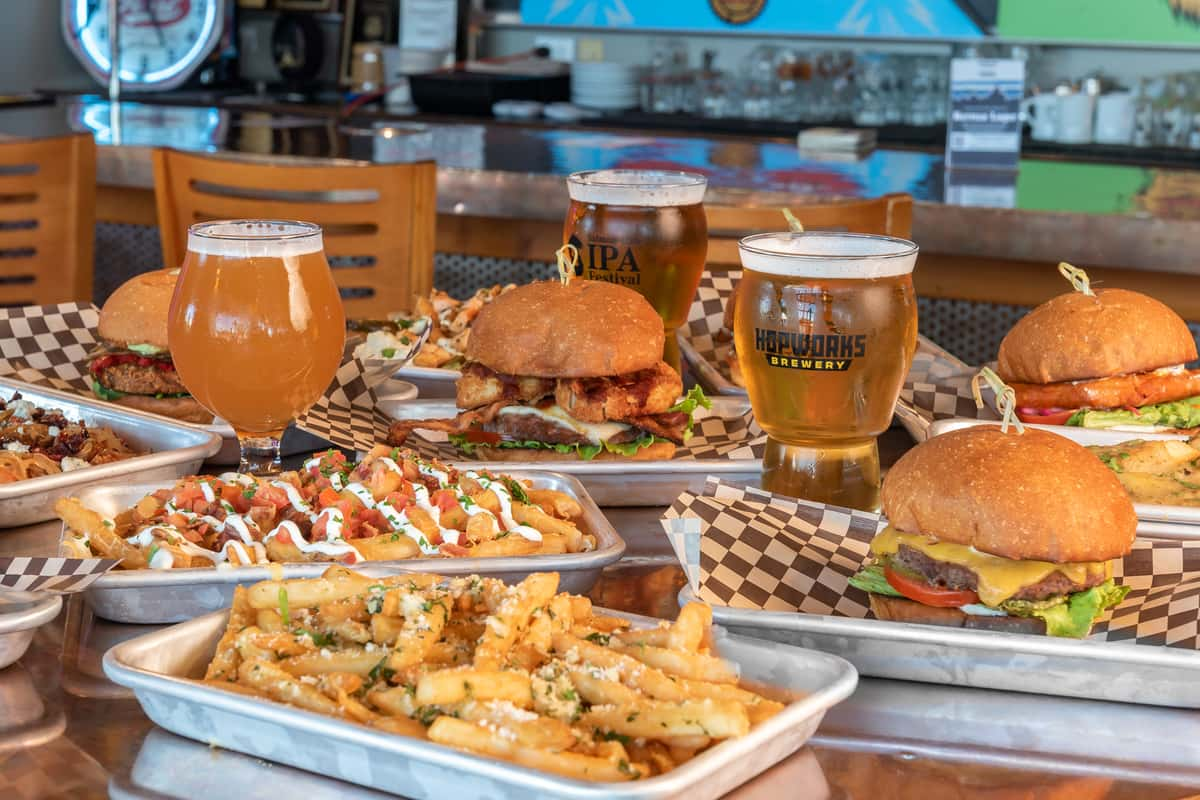 Hopworks Unveils Refreshed Brand Identity,Two New Flagship Brews
Hopworks Unveils Refreshed Brand Identity,Two New Flagship Brews
Certified B Corp Hopworks Brewery is kicking off its 15th year in a big way, with an updated brand identity, name change, and two brand-new flagship beers. This announcement comes at a pivotal time for the brewery, as it prepares to host the Salmon-Safe IPA Festival and celebrate its milestone anniversary.
Hopworks Brewery has officially dropped the "Urban" from its name, citing a desire to simplify its identity from the interchangeable "HUB/Hopworks" name.
"After 15 years of having two names, and probably confusing a few folks along the way, we have decided to drop 'Urban' and call ourselves simply 'Hopworks Brewery,'" explained founder Christian Ettinger. "When we started our journey, we packed 'Urban' into our name to get the HUB acronym. But I have always answered the phone, 'Hopworks, this is Christian, how can I help you?' Brewpubs have always been the HUB of the community and we are proud to carry on that tradition."
The company has also adopted an updated logo mark, retaining the traditional target, but in a natural setting evocative of the Pacific Northwest: the sun rising over a mountain, with stylized snowfields in the shape of the letter H.
"We are super stoked to pack a little nature into our classic target Icon with a new mountain and a snowfield 'H' as a little Easter egg for the design-curious," said Ettinger. "Tying our identity more closely to nature better embodies our B Corp values of protecting the planet and its people and continuing to be a HUB for our community. Cheers to that!"
Along with the new brand identity come two new flagship beers that honor the Hopworks mission and history: Overland IPA and Beer Time Pils. The award-winning Ace of Spades Imperial IPA has been elevated to year-round flagship status, as well.
Overland IPA is about enjoying the journey, where our spirit of adventure brings us closer to nature. It is a modern West Coast IPA, perfect to enjoy by the fire at the end of a long day. Golden in color, with notes of citrus and dank pine, and a clean, bitter finish. The can art depicts a charging bison, once a decisive indicator of the health of the Western prairie. 6.9% ABV, 60 IBU. 12 oz cans and draft.
Beer Time Pils is about enjoying the destination, wherever it may be. It is a well-crafted classic German-style Pilsner with a herbaceous, crackery taste and a crisp, dry, floral finish. The art on the can features the vintage "BEER TIME" clock that hangs from the side of Hopworks' Powell brewpub, with wings to serve as a reminder to stop in for a pint because, as they say, time flies. 4.9% ABV, 38 IBU. 12 oz cans and draft.
Ace of Spades Imperial IPA is a big, assertive hop bomb that won the World Beer Cup Gold in 2009. With bold pine on the nose and finish, and strong citrus notes, this fan favorite is an IPA lover's rich, dank dream brew. 8.6% ABV, 90 IBU. 19.2 oz cans and draft.
All of Hopworks' packaging is receiving the updated art treatment, and beer fans will find the new look on retail shelves on a rolling basis over the next few months.
Hopworks beer can be found at retailers throughout Oregon, Washington and Northern California, and on draft at Hopworks on Southeast Powell Boulevard in Portland and on Southeast Mill Plain Boulevard in Vancouver.
About Hopworks Brewery
Celebrating its 15th year in 2023, Hopworks was founded by Christian and Brandie Ettinger to create world-class beer and food with sustainable business practices that protect the environment and support our community. Family-owned and operated, Hopworks sources thoughtfully, operates efficiently and minimizes waste in an effort to protect the planet. The company's 20-barrel brewery produces 10,000 barrels of beer a year for Hopworks' brewpubs and distribution throughout Cascadia. Hopworks is the first Certified B Corporation brewery in the Pacific Northwest and is Certified Salmon-Safe. HopworksBeer.com | @hopworksbeer