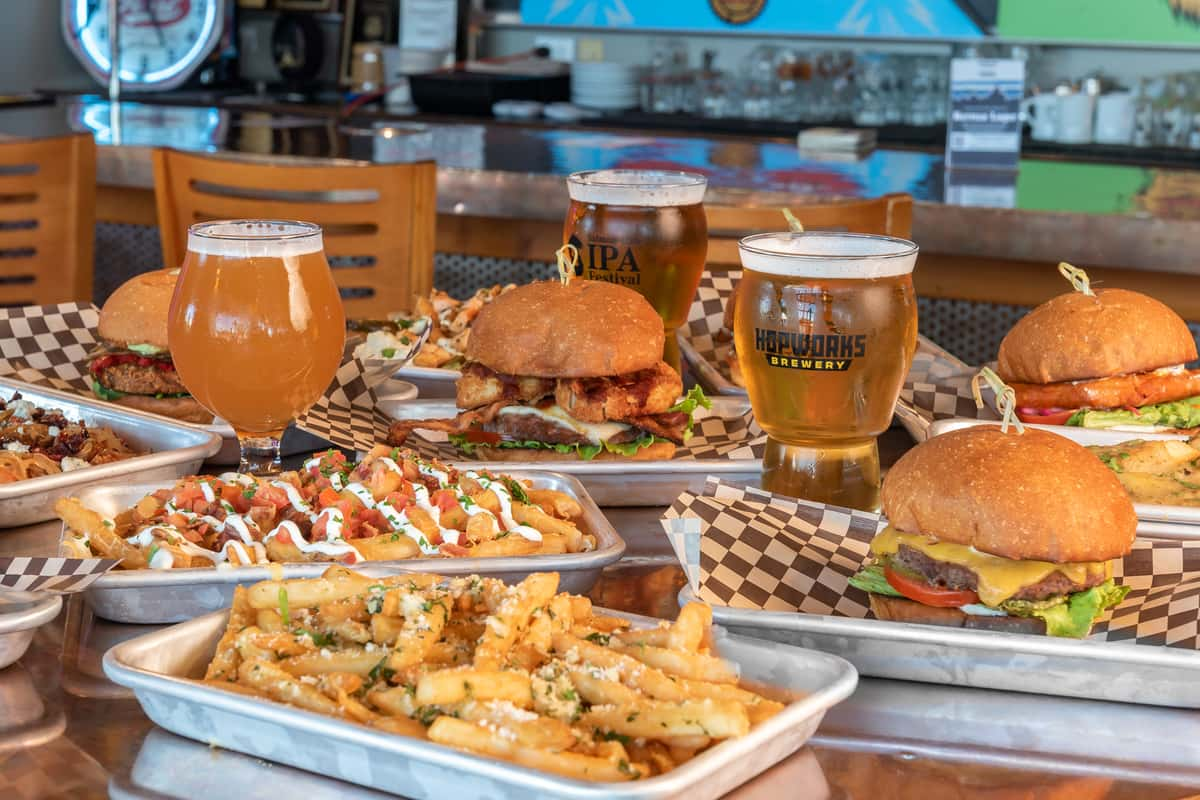 The Source of Hoppiness
The Source of Hoppiness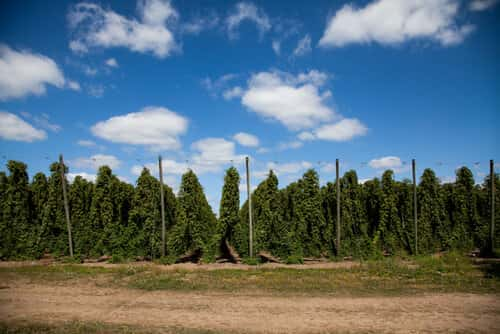 To get to the source of some of the organic hops that flavor many of Hopworks Urban Brewery's beers, we need only drive south about a half hour from the Portland brewery.
From the hustle and bustle of I-5, we pass a truck stop and then follow the pavement as it cuts a path through the giant swath of tilled earth known as French Prairie. There's a right turn, then a quick left and we find ourselves in a gravel driveway, amidst giant trellises supporting gangly hop plants loaded with beautiful little cones.
A sign announces that the 200-acre Leavy place is an Oregon Century Farm. But standing beneath a canopy of huge oak trees, near aging barns and farm equipment, there's no doubt we're surrounded by the past.
The area is rich with history. Just a few miles up the road sits Champoeg State Park – where the state's founders sat along the Willamette River and drafted the papers necessary to establish what became known as the Oregon Territory in 1848.
Now 166 years later, Pat and Jean Ann Leavy are in many ways setting off into new territory themselves at their Oregon Hophouse. Pat and Jean Ann have been at the helm of the 102-year old farm since 1978. And though his grandparents started growing hops in the 1920s, it was Pat who worked to be the first hop grower in Oregon with certified organic status. He now has 55 acres of hops growing, 30 acres of which are organic.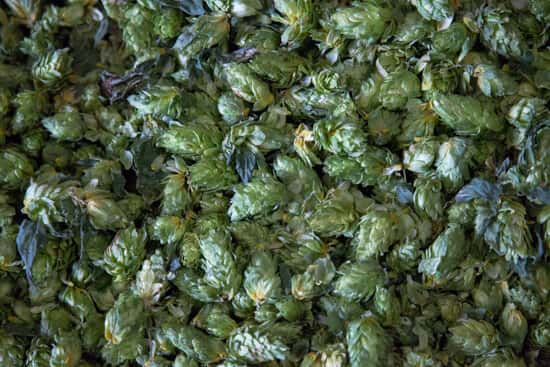 "Organic hop production is very new. I believe there are four organic hop farms in Oregon. We were the first and are the largest," Leavy says. "I learn something new everyday."
Standing in the barn where workers feed 15-foot long hop vines into the picker, a ladybug scuttles across my shoulder. It had not doubt escaped from the mound of foliage in the truck bed and was anxious to return to work eating aphids. The ladybugs are native. And last year, Leavy released about 200,000 mites to eat red spider mites, a serious pest.
"By using organic ingredients, HUB is improving agriculture. I would not be breeding for greater disease resistance if HUB was not buying organic hops," Leavy says. "We should be trying to reduce pesticide use."
The cones are stripped from the vines and bounced along a conveyer belt until they come to rest in the drying kiln. They are then pressed and compacted into two-hundred pound bales and shipped to a few lucky breweries.
And that's where Hopworks fits in. Grab a four-pack of Hopworks Lager or IPA next time you're at the store or pull a cold can out of the fridge at a Chipotle Mexican Grill anywhere in the Northwest and you'll be sipping a beer made with those hops.
There's a little bit of history and a whole lot of freshness in those cans.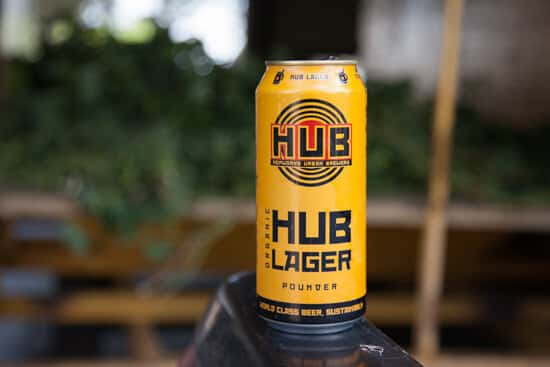 You can find Magnum, Perle, Fuggle and Golding hops from The Oregon Hophouse in these Hopworks beers: HUB Lager, IPX Single Hop Ale: Fuggle, and a variety of our seasonal and specialty beers.
This year we are releasing three fresh hop beers. The first, the IPX Single Hop Ale: The Freshmaker is made with fresh Fuggle Hops and can be tried side by side with the original IPX Fuggle. Estate IPA is our Hopworks IPA but brewed with fresh hops from our own backyard. Finally, our Bitchin' Camaro is a single hop lager with Salmon Safe Hops from Crosby Farms.
All images taken by Tim LaBarge.