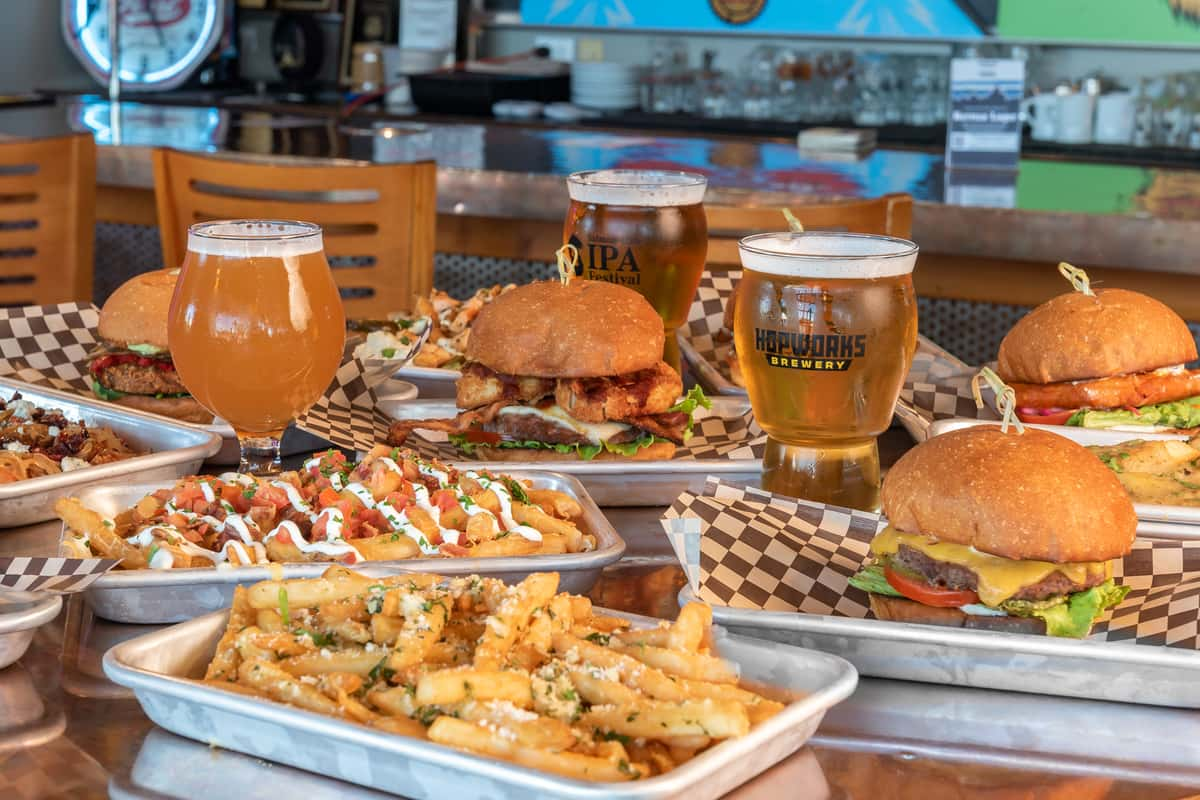 Double Down Doppelsticke Collaboration
Double Down Doppelsticke Collaboration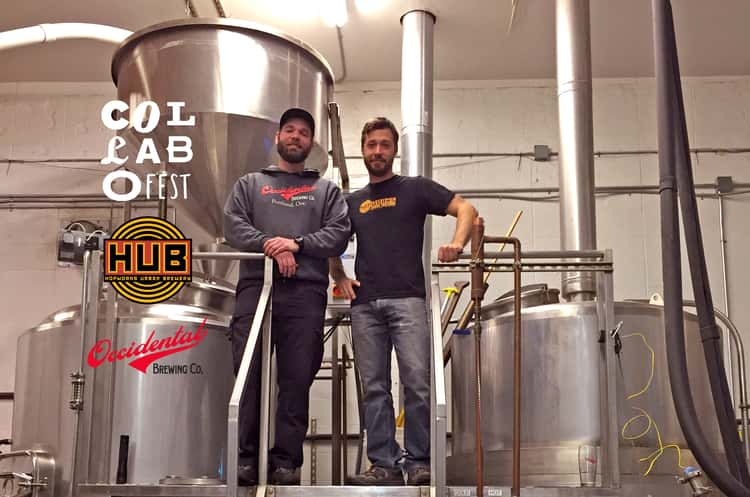 DOUBLE DOWN DOPPELSTICKE
Now in it's second year, Base Camp's Collabofest is a great opportunity for Portland-based breweries to come together for some special collaboration beers. The event celebrates camaraderie while raising funds for Oregon Wild and the Oregon Natural Desert Association, organizations that advocate for permanent wilderness designation in Oregon's natural places. Join us this Saturday, January 30, for one of the best new festivals in the city.This year we team up with Occidental Brewing, makers of fine German-style beers in North Portland. Occidental brewer Sam Carroll sat down with HUB Head Brewer, Trever Bass, to brainstorm some beer ideas. It turns out both brewers have long wanted to brew a Sticke Alt, so the decision was pretty easy. We would brew a Sticke Alt at Occidental, and then Occidental would brew a Doppelsticke Alt at our place.
Sticke, which means "secret" in German, is a specialty beer brewed by makers of altbier and is defined as being a bigger, bolder, seasonal version of tradition altbiers. A double sticke is then a bigger, bolder version of a bigger, bolder alt. We just filled kegs with Double Down Doppelsticke and we're shipping them to Base Camp tomorrow. We're loving the flavors and texture of this beer. It comes off as smooth with a rich, toasted bread malt flavor. Big, dark raisin and prune flavors mingle with subtle hops and a balanced bitterness. We can't wait to share this beer, and we also look forward to trying the other half of the collaboration for the first time on Saturday.
BASE CAMP'S COLLABOFEST
JANUARY 30 | 1PM
BASE CAMP BREWING | 930 SE OAK ST. PORTLAND
TICKETS START AT $25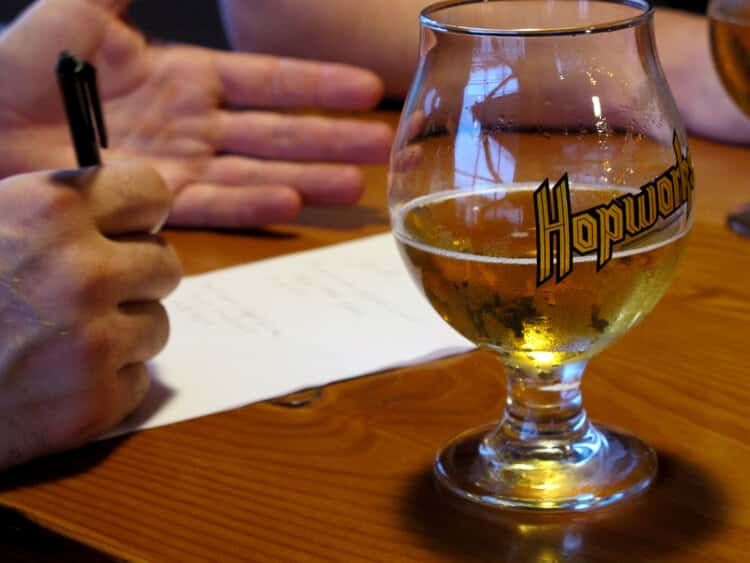 THE BEER LIST
EX NOVO BREWING CO. + WITH ECLIPTIC BREWING
MIDNIGHT BLACK GOSE – Ecliptic and Ex Novo chose to take traditional German styles, make them dark and use chocolate as a unifying ingredient. At Ex Novo, we brewed a Black Gose. using Jacobsen's Pinot Noir-infused sea salt to tie the chocolate and style together. Light and tart, with subtle cocoa and Pinot Noir notes.
NIGHTFALL BLACK PILSNER – Ecliptic's take on a dark, chocolate-inflected beer is a German-style Schwarzbier. This beer has a delicate malt flavor with a touch of roast. The addition of raw cacao nibs and sweet orange peel will remind you of a great dessert.
BURNSIDE BREWING + THE COMMONS BREWERY
BURNSIDE #NOFILTER – Burnside's #nofilter is brewed with The Commons Myrtle and with a special addition of blood orange. The final product is a blend of Burnside Brewing's take on The Commons Myrtle and The Commons' take on Burnside Brewing's Sweet Heat, with a special mystery ingredient added by each brewery.
THE COMMONS BREWERY #NOFILTER – The Commons Brewery #nofilter is brewed with a version of Burnside Brewing's Sweet Heat, fermented 100% with Brettanomyces. The final product is a blend of The Commons' take on the Sweet Heat and Burnside Brewing's take on The Commons Myrtle, with a special mystery ingredient added by each brewery.
GIGANTIC BREWING CO. + STORMBREAKER BREWING
SOMETHING BROWN – Brewed in collaboration with their friends at StormBreaker, Gigantic's Something Brown is a sessionable brown ale made extra smooth with the addition of cacao nibs from Portland's own Mana Chocolate.
THE LOVE VAN – StormBreaker went big with their collaboration. So big, it's Gigantic. This Imperial Chocolate Brown Ale, brewed with local cacao nibs, is big and bold, but finishes as smooth as a ride in the Love Van. With flavors of chocolate and notes of caramel, you may need to pull over and draw the curtains for maximum enjoyment. But remember: Only drinking, no driving in the Love Van.
BREAKSIDE BREWING CO. + BTU BRASSERIE
JACK BURTON – This malt-forward, German-style dark ale made in collaboration with BTU Brasserie showcases two new malts from Country Malt. "Hot honey" is added post-fermentation, creating a sweet and slightly spicy beer that's is surprisingly balanced and very drinkable. Drink with Wang Chi to experience #PDXNOW.
WANG CHI – This light, kettle-soured wit beer, made in collaboration with Breakside Brewery, showcases Country Malt's new Wint Malt. While wheat malt and oats provide the body, the addition of green tea, citrus peel and chamomile create a flavor profile that awakens all the senses. Drink with Jack Burton to experience #PDXNOW.
BASE CAMP BREWING + CULMINATION BREWING
STREET STEAMIN' COMMON – An uncommonly produced California Common–type hybrid lager beer, Base Camp's Street Steamin' Common is assertively fruity from an aggressive fermentation regimen with house lager yeast and firmly malty from Great Western's Full Pint and P-50 malts. Its historical hop complexity comes from Northern Brewers and Summits in the whirlpool and Willamettes added in the dry hop. To add a Portland spin, some of the brew was cooled overnight in an open fermentation vessel which was moved the following morning — with primary fermentation already rocking and rolling — to Culmination Brewing, where it was topped off with their #PDXNOW brew. This open, collaborative fermentation was then blended back into each of the two beers, adding extra fruity notes.
CASCADIA UNCOMMON – A Cascadian twist on a California Common. Pilsner and the new sacchra-caramel malts lend the backbone to Northern Brewer, Summit and Willamette hops. We then open-fermented in both Base Camp and Culmination (and the roads in-between) with the Base Camp house lager yeast with warm temps for those classic fruity CC esters.
WIDMER BROTHERS BREWING + FAT HEAD'S BREWERY
METAL AS BOCK! – Bock is metal! But Doppelbock is Metal As Bock! You know … like Motörhead! This clean, dark brew is soul-crushingly good. It will lead you into and through the darkness. You shall meet, greet and defeat your maker. You will kiss the goat! Welcome to the dark side. You shall never return. Prost!
RAUCH YOU LIKE A HURRICANE SMOKED DOPPLEBOCK – Rauch You Like a Hurricane is Fat Head's take on the traditional German-style dopplebock with a twist. Aromas of rich German malts and a hint of smoke are followed by flavors of smoke, toffee and caramel.
OCCIDENTAL BREWING CO. + HOPWORKS URBAN BREWERY
STICKE ALT – Occidental's submission to the #PDXNOW Collabofest is a stronger-than-normal seasonal Altbier. Sticke (German for "secret") is a balanced beer with a complex malt bill and subtle hop aroma provided by noble hop varieties. Fill your glass, pretend you are at a Düsseldorf brewhaus and enjoy the festivities.
DOUBLE DOWN DOPPELSTICKE – Hopworks contribution to this years #PDXNOW Collabofest is the strong big brother to Occidental's delicious Sticke Alt. Wanting to provide both traditional versions of an often overlooked style, we invite you to grab a glass of each and taste your way through the subtle malt complexities of toasted biscuits, raisins and plums. Sit back, relax and snuggle up with our warm Doppelsticke blanket.
LAURELWOOD BREWING CO. + BAERLIC BREWING COMPANY
KOTTBUSSER – After passing around a few ideas, Laurelwood's brewers decided to try their hands at brewing an extinct German ale. Notes of oats, honey and molasses pull this beer together. With help from Baerlic Brewing, this beer is somewhere between a German hefe and a Belgian wit.
BIRDSEYE KOTTBUSSER-STYLE HONEY WHEAT ALE – Birdseye is Baerlic's take on the long lost Kottbusser style beer originally brewed in Cottbus, Germany. Unfortunately, this style went the way of the Dodo bird as the German Beer Purity Law banned brewing beer with wheat, oats, honey and molasses. Birdseye is brewed with a blend of local honey, barley malt, Bob's rolled oats and molasses, and kettle soured for a mellow, tart finish.
CIDER RIOT + REVEREND NAT'S CIDER
WTF THERE'S PALMS IN #PDXNOW? Sustainably harvested and certified organic Wild Palm syrup from the highlands of Sri Lanka was added to juice from Reverend Nat's proprietary blend of northwest apples and fermented at Cider Riot! with champagne yeast. Kandy Mountain Treacle in Eugene supports the farmers who harvest the syrup from flowers of the wild palm trees, and say it helps you tap into ancient body wisdom. Restraint is recommended when consuming, lest you inadvertently end in Downward Facing Pigeon pose.