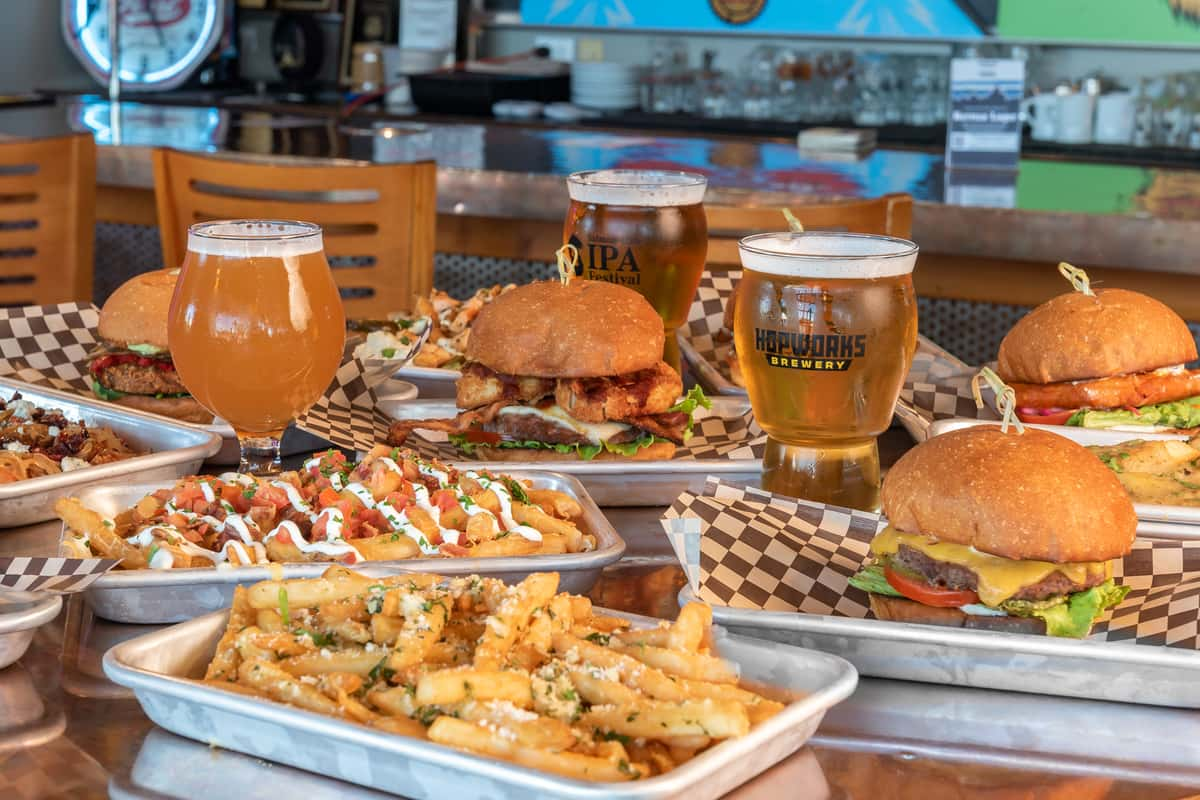 Give The Gift Of Hopworks
Give The Gift Of Hopworks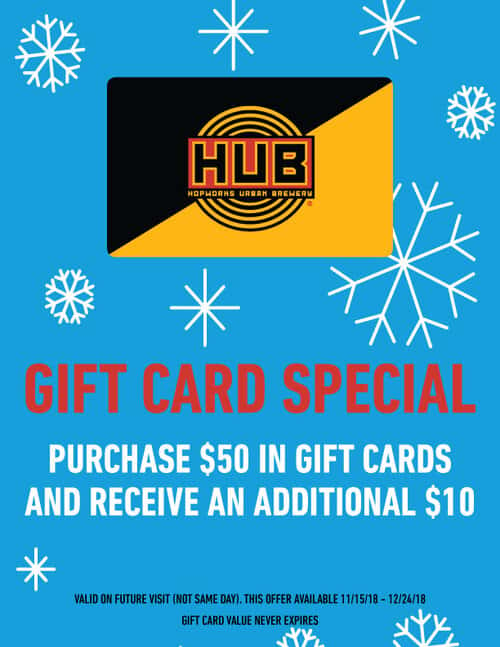 WE'RE MAKING IT EASY (AND AFFORDABLE) TO PLEASE YOUR BEER-LOVING FRIENDS AND FAMILY WITH A VARIETY OF GIFT PACKAGES AND GIFT CARD SPECIALS.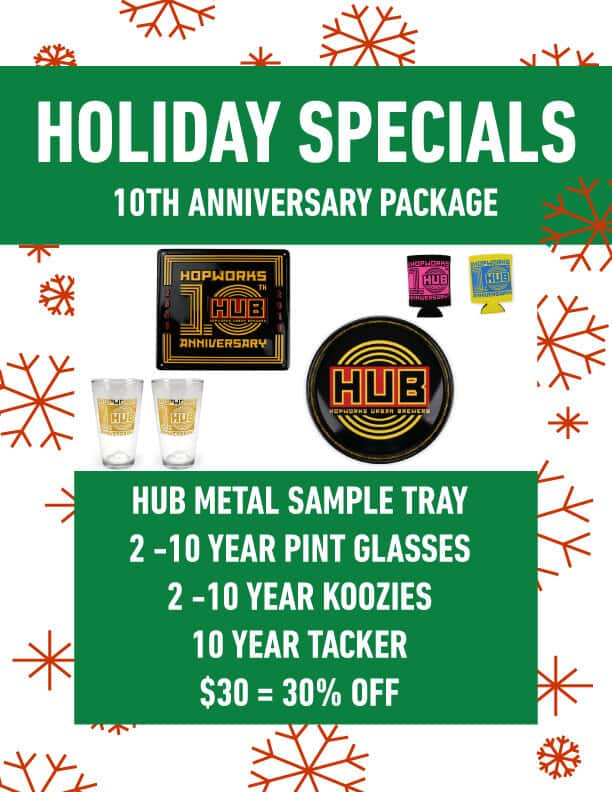 FROM NOW UNTIL DECEMBER 24TH, WE ARE RUNNING A GIFT CARD SPECIAL – PURCHASE $50 IN GIFT CARDS AND RECEIVE AN ADDITIONAL $10!*
*The Gift Card Special is only available in our pubs. Purchased Gift Cards are good on a future visit, and cannot be used on the same day. The Gift Card Special is valid 11/15/18 – 12/24/18. Hopworks Gift Card Value never expires!
WE HAVE ALSO PUT TOGETHER 3 HOLIDAY PACKAGES AT DISCOUNTED PRICES, THAT CANNOT BE BEAT!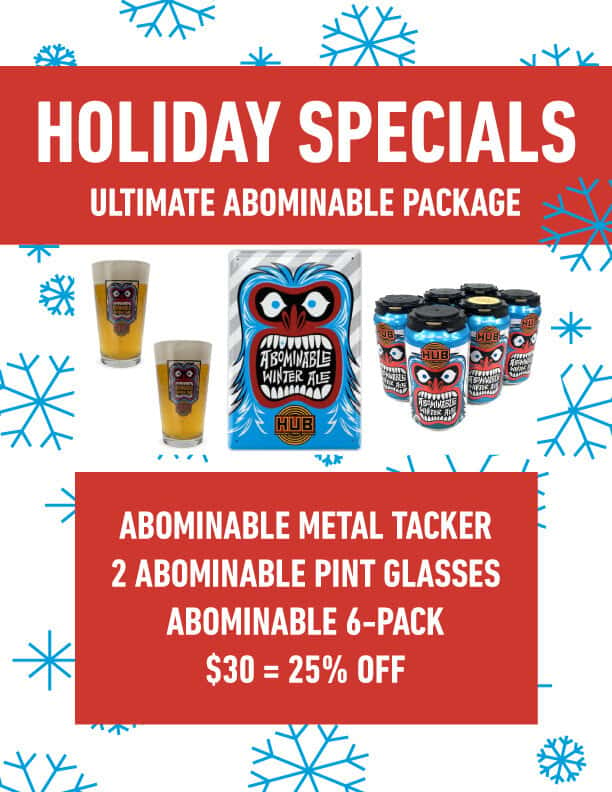 OUR 10TH ANNIVERSARY SPECIAL IS ONLY $30 AND INCLUDES 2 OF OUR SPECIAL 10-YEAR PINT GLASSES, 2 OF OUR 10-YEAR KOOZIES, A 10TH ANNIVERSARY TACKER, AND A HUB METAL SAMPLE TRAY. WHEN YOU PURCHASE THIS PACKAGE FOR YOUR FAVORITE HUB FAN, YOU'LL SAVE 30%!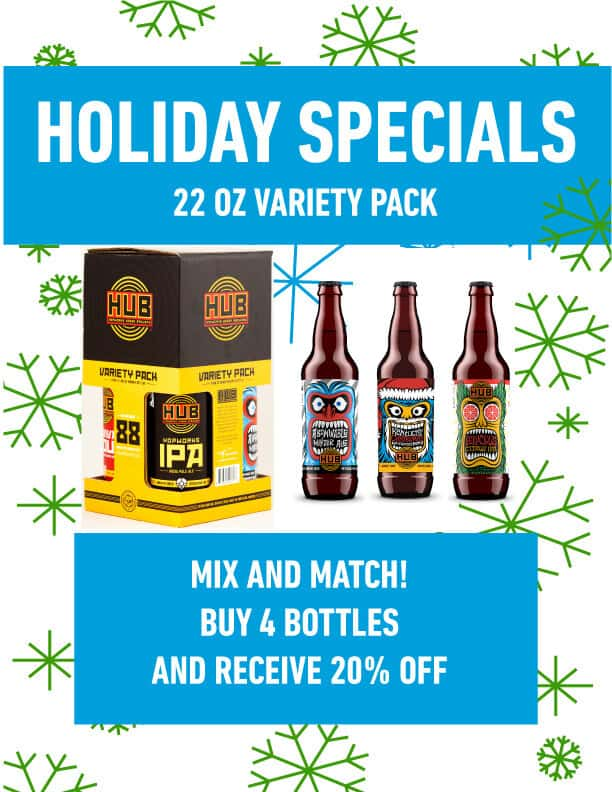 THE ULTIMATE ABOMINABLE PACKAGE IS $30 AND INCLUDES A 6-PACK OF ABOMINABLE WINTER ALE, 2 ABOMINABLE PINT GLASSES AND AN ABOMINABLE WINTER ALE METAL TACKER. THIS PACKAGE IS PERFECT FOR ANYONE WITH A HOME BAR, LOOKING TO ADD A FUN SEASONAL TOUCH! SAVE 25% WHEN YOU PURCHASE THIS PACKAGE!
Holiday specials
FOR YOUR FAVORITE BEER LOVER, GET THEM THE GIFT YOU KNOW THEY'LL LOVE — BEER! BUILD YOUR OWN VARIETY PACK OF 4 OF OUR 22OZ. BOTTLES AND RECEIVE 20% OFF THE COST OF BEER, PLUS YOU GET THIS EASY TO WRAP GIFT BOX!
All packages and gift card specials are not available online. These are only available in our stores, come in and visit us at any of our 3 locations!