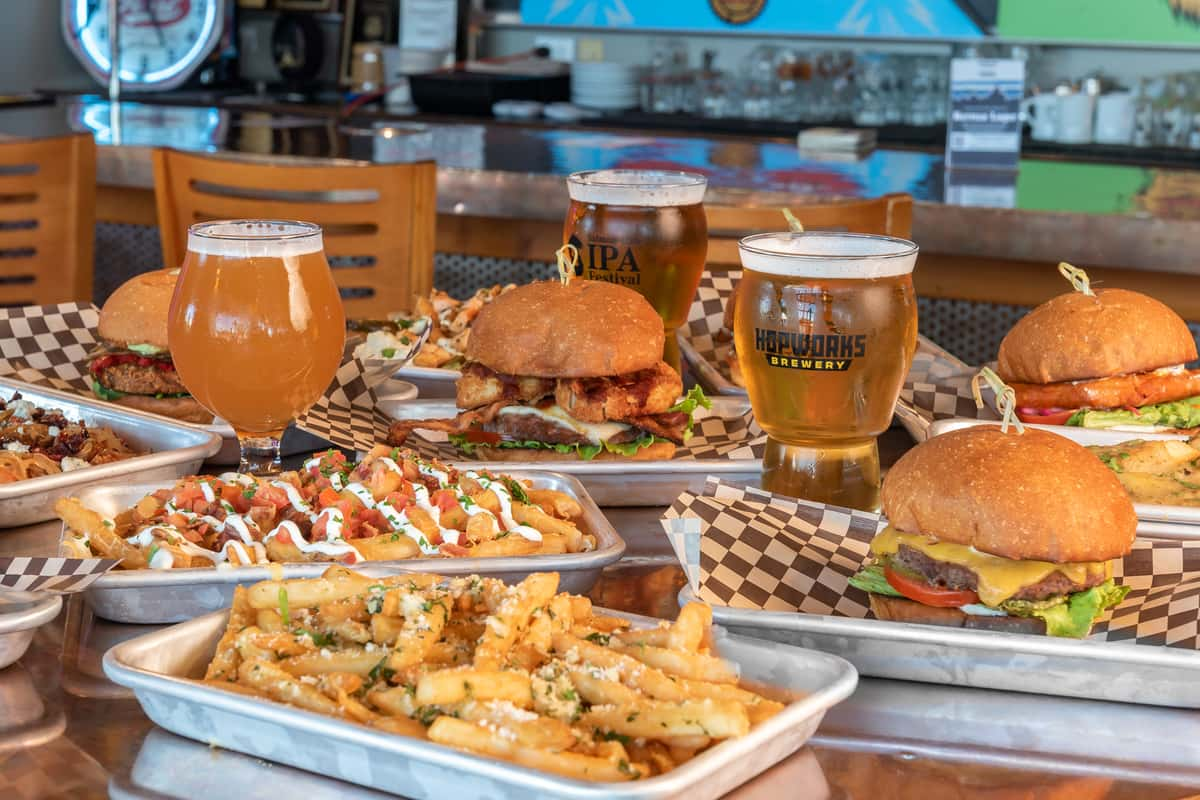 HUB NEWS: BikeBar Anniversary, PDX Beer Week & More
HUB NEWS: BikeBar Anniversary, PDX Beer Week & More
Your friends at Hopworks have been brewing up an amazing month of activities for June.
But before we get started, we want to take a second to recap some great news regarding our sustainability efforts. Last Wednesday, Oregon Business magazine again named Hopworks one of the 100 Best Green Places to Work in Oregon. This recognition comes after HUB received the Oregon Governor's Sustainability Grand Champion Award late last year and the release of our first ever Sustainability Report on Earth Day. These awards, recognitions and reports are a great way to validate we're on the right path to providing you with a thoughtful alternative and we look forward to the challenges of doing even more for the environment.
1) BIKEBAR'S SECOND ANNIVERSARY – TUESDAY, JUNE 11 – ALL DAY
It's hard to believe BikeBar has already been serving the thirsty and hungry masses in North Portland for two years! Come on in and celebrate our birthday with $2 organic beers all day and complimentary cake served around 5:45 for everyone joining us in singing Happy Birthday! BikeBar is located at 3947 N. Williams Ave in North Portland.
2) ACE OF SPADES BEER RELEASE – TUESDAY, JUNE 11 – 5:00 PM
And if BikeBar's birthday wasn't enough, your favorite fast-living, hard-rockin Imperial IPA is back! We'll release Ace of Spades at Hopworks Urban Brewery and BikeBar on TUESDAY, JUNE 11. So crank up the Motorhead and raise a pint to Lemmy. Ace of Spades will also be available in 22 oz. bottles, so ask for it at your favorite bottle shop or market.
3) PDX BEER WEEK
When it comes to beer weeks, Portland doesn't mess around, and neither did we. We jammed a ton of great events from dinners with Vitaly Paley to leisurely bike/pub rides for you to meet up with the brewers and fellow HUB fans. You can also find HUB organic beer at several events including the Fruit Beer Fest and Rye Beer Fest. A full calendar of events is listed at PDX Beer Week.
SUNDAY, JUNE 9 – 4:00 – 6:30 PM
MEET THE BREWERS FROM AUTOMATIC BREWING – Hopworks teamed up with the brewers from San Diego's Automatic Brewing to collaborate on our Fruit Beer Fest entry named Tiger Tonic, a Belgian pale ale with wheat made with mango, pineapple and passionfruit. The guys are back in town and bringing some of their own beer for Portland to enjoy at Hopworks on SE Powell.
MONDAY, JUNE 10 – SIGN-UP, 5 – 7PM, TOURNEY START AT 7:00
HOPWORKS PINBALL TOURNAMENT AT GROUND KONTROL – Come play pinball with Hopworks Urban Brewery! Ground Kontrol is hosting a special Portland Beer Week three-strike knockout tournament in our pinball lounge for multiball marvels that enjoy pairing world-class organic beer with classic pinball. Come down between 5-7pm to sign up, but don't delay – limited spots are available! If you don't want to compete, you can still enjoy specials on Hopworks beer during the event and flip for fun! Ground Kontrol is located at 511 NW Couch St.
TUESDAY, JUNE 11 – ALL DAY
BIKEBAR 2ND ANNIVERSARY – See all the details above!
SATURDAY, JUNE 15 – 5 – 7 PM
HOPWORKS BIKE TO PUB RIDE WITH HOP IN THE SADDLE AND VELO CULT – Hop in the Saddle with the authors of Hop in the Saddle and take a tour of North and NE PDX brewing hot spots. We'll rally up at the back patio of BikeBar ( 3947 N. Williams), grab a can of ice cold HUB beer and then head over to Mississippi to see Ecliptic Brewing before its doors open. We'll find a stop or two along the way and wrap up at Velo Cult in Hollywood for post-ride refreshments.
4) THE HOPWORKS HAPPY HOUR BOWLING LEAGUE
The Hollywood Bowl on NE Halsey has long been a great place to get HUB organic beer while you hit the lanes. And, we've been so popular, they now want Hopworks to have it's own league. There are still 1 or 2 team slots still available, here's all the details.
Tuesday Nights – 6:00 pm – June 4 through August 6
$8 per person/per week – $1 shoe rental
3 games per night – 4-person teams
Happy Hour pricing on Hopworks beers during league play
Hopworks giveaways and tastings throughout the season
As an added bonus, league members can bowl up to three free games a day at Hollywood Bowl.
Sign up at HollywoodBowlPDX.com
Thanks so much for being a fan of delicious organic beer and supporting sustainable business. We look forward to seeing you at any of these great events!