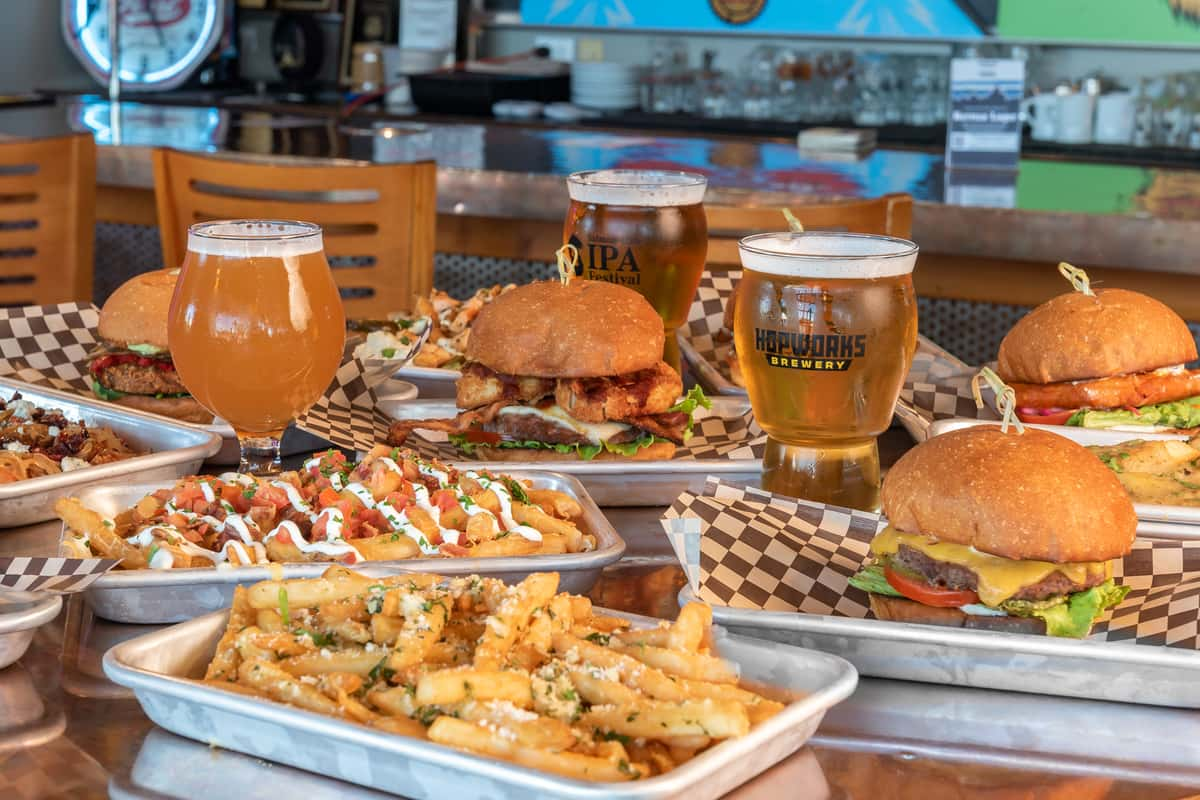 Jake's Grill & Hopworks Beer Pairing Dinner
Jake's Grill & Hopworks Beer Pairing Dinner
Join Hopworks and our friends at Jake's Grill for a special beer pairing dinner on Thursday, Oct. 20. This eight-course dinner is an elite tour of culinary and sensory experiences featuring some of the Northwest's finest local ingredients and Hopworks organic beer.
Dinner begins at 7 p.m. in the Hardy Room located at 611 SW Tenth Ave. Reservations are $50 and limited to the 30 guests. TO RESERVE YOUR SEAT, PLEASE CALL JAKE'S GRILL AT 503-220-1850.
Inspired by tradition, Jake's Grill is proud to serve the finest meat and seafood in a classic, uncomplicated style. Adjacent to the historic Governor Hotel, Jake's Grill brings the classic American Grill traditional dining experience to downtown Portland, OR.
FULL MENU:
FIRST COURSE APPETIZERS:
Hop Rubbed Spiced Chicken Skewers with Peanut-Red Chile BBQ Sauce
Northwest Wild Mushroom Quesadilla with Tillamook Cheddar Cheese and Truffle Oil
Goat Cheese Stuffed Piquante Peppers
Housemade Pancetta Wrapped Prawns with Romesco Sauce
PAIRED WITH HUB LAGER
SECOND COURSE AMUSE BOUCHE:
Seaweed and Orange Crusted Ahi Tuna on Won Ton Crisp with Asian Vegetables and Wasabi Cream
PAIRED WITH CROSSTOWN PALE ALE
THIRD COURSE SALAD:
Chorizo Stuffed Quail Salad on Organic Arugula Salad with Roasted Butternut Squash with Sherry Vinaigrette and Aged Manchego Cheese
PAIRED WITH DELUXE ORGANIC ALE
FOURTH COURSE:
Grilled Northern Italian Style Sausage with White Beans, Fermented Cabbage, Italian Parsley, Lemon, Sage and Mostada
PAIRED WITH RISE UP RED
FIFTH COURSE:
Chipotle Brown Sugar Roasted Rack of Wild Boar with Arugula Mashed Potatoes and Smoked Tomato Demi
PAIRED WITH HOPWORKS IPA
SIXTH COURSE DESSERT:
Traditional Tiramisu with Valrhona Cocoa Powder and Stout Ice Cream
PAIRED WITH SEVEN GRAIN STOUT
SEVENTH COURSE:
Chimay Biere Wheel Cheese and Washington Cougar Gold Cheese with Fall Apple Terrine
and Paley's Fruit and Nut Bar
PAIRED WITH GALACTIC IMPERIAL RED & ABOMINABLE WINTER ALE
EIGHTH COURSE:
Chocolate Martini Shot with a Cat Tongue Cookie
PAIRED WITH SEVEN GRAIN STOUT