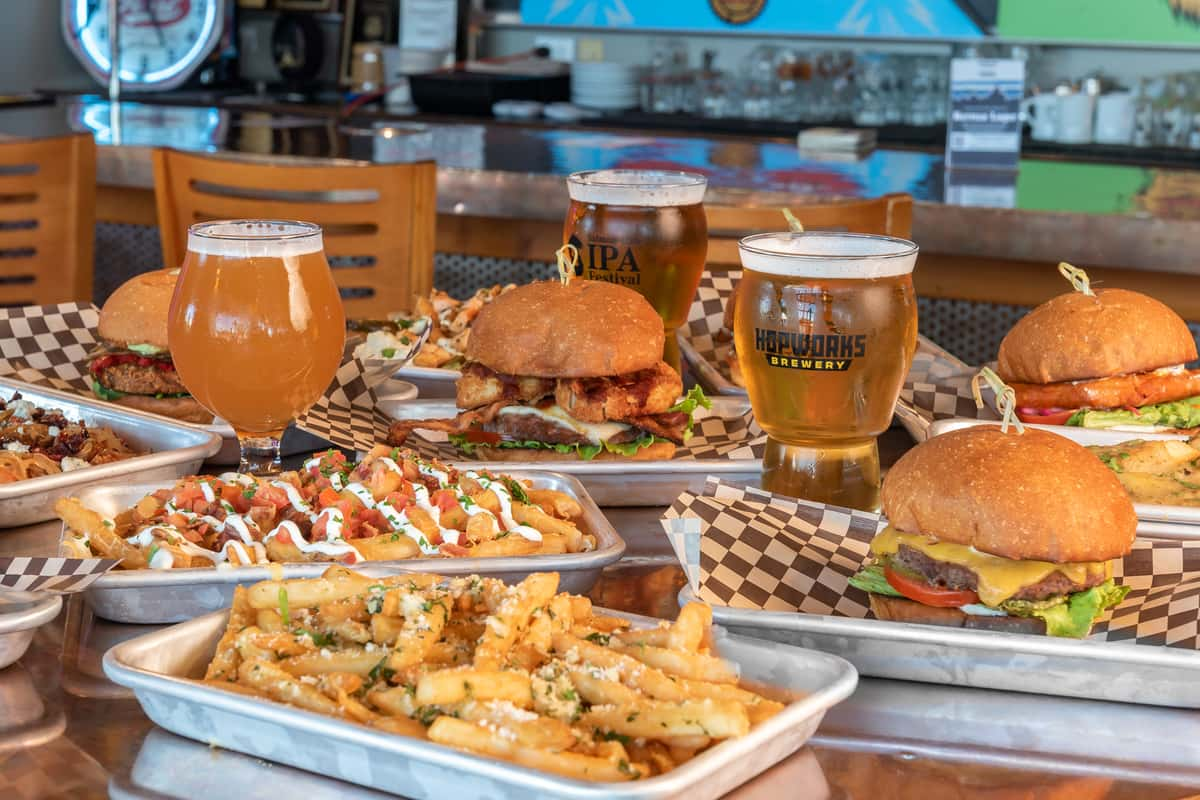 Salmon-Safe IPA Festival is Coming: August 25
Salmon-Safe IPA Festival is Coming: August 25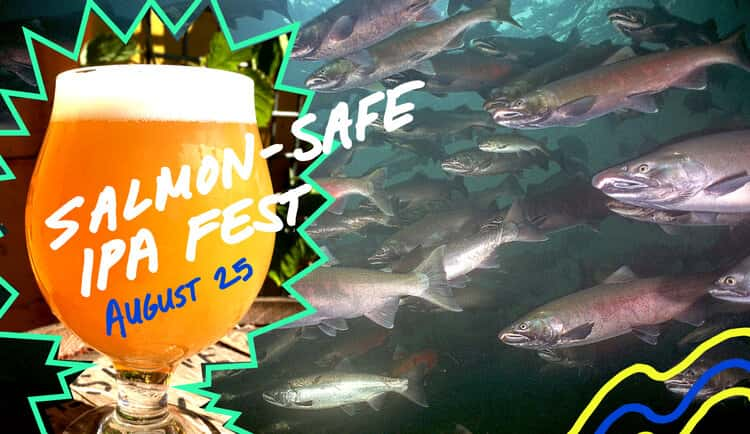 The Salmon-Safe IPA Festival is coming up on August 25th and we have just finalized the beer list! It's a pretty fantastic list (see below). Each of the 20+ participating breweries are making an exclusive beer using ingredients that help protect clean water and biodiversity in the Pacific Northwest. The ingredients all come from Salmon-Safe certified farms, hence the "Salmon-Safe IPA Festival."
Get your tickets now, they're moving quickly.
AUGUST 25• SESSION 01 – 12-4PM (FAMILIES)
• SESSION 02 – 5-9PM (ADULTS)
• PANEL TALKS – 4-5PM
HOPWORKS URBAN BREWERY | 2944 SE POWELL BLVD. PORTLAND, OR 97202
TICKETS: $25 ADVANCE | $30 ONSITE | $5 FOR UNDER 21 | $5 FOR PANEL TALKS
THE BEER LIST:
ASLAN BREWING CO. – Bellingham, WA
Organic Fish Have Feelings IPA – An IPA brewed to help raise awareness for our fish friends facing growing dangers to their natural habitats. The combination of Salmon-Safe Azacca, Citra and Mosaic hops make this beer a pungently dank juice bomb. 7.2%
BAERLIC BREWING – Portland, OR
Grass is Greener IPA – They say the grass is always greener…and with a big nose of fruit punch & orange peel laid over flavors of dank pine and spring flowers, it's soo true. Brewed with Centennial, Jarrylo and Meridian hops from our good pals at Crosby Hop Farm. 6.2%
BALE BREAKER BREWING COMPANY – Yakima, WA
Chumdog Millionaire IPA – Hazy IPA brewed with Simcoe, Amarillo, Azacca, and Chinook hops from Roy Farms and malt from Mainstem Malt. 6.5%
BREAKSIDE BREWING – Portland, OR
Cascade Lox – An English-ish style Session IPA designed and brewed by our QA manager Greg Soto. We love getting all of our staff involved in designing and brewing our beers. Athena English Pale, Pilsner, and Walla Walla Hard Red Light Munich malt from Mainstem Malt. Mt. Hood, Cascade, and Amarillo hops all come from Crosby Hop Farm.
CRUX FERMENTATION PROJECT – Bend, OR
Three Streams Brut IPA – We squeezed all the juicy, citrusy goodness out of two classic hops we've all come to know and love but kept the bitterness at bay, letting the light shine through its malty bedrock. Brewed with Centennial & Cascade Hops from Goschie Farms and Pilsner Malt from Mainstem Malt. 6%
CULMINATION BREWING – Portland, OR
The Final Cut – Hazy IPA with notes of Citrus, Dank, and Resin. Chinook, Centennial, and Cascade from Crosby Hop Farm. 7.1%
DESCHUTES BREWERY – Bend, OR
Moonlight Run IPA – A classic English IPA brewed with a rich, crisp and complex malt profile and a medium body. Nugget, Tettnang and Crystal hops deliver citrus notes with subtle herbal flavors and a delicate floral aroma. Salmon-Safe hops from Crosby and Tettnang from Goschie Farms. 6%
EX NOVO BREWING CO. – Portland, OR
Salmon Ella – IPA brewed with Mainstem Malt. Citra, Azacca, and Ella hops from Crosby Hop Farm. 6%
FORT GEORGE BREWERY – Astoria, OR
Rite of Passage – Northwest IPA brewed with Mainstem Athena Pilsner and Hard Red Light Munich, Meridian Hops, Strata Hops, and Idaho 7 Hops. 7.5%
FREMONT BREWING – Seattle, WA
Certified – IPA brewed with all organic hops and local malts. All ingredients are Salmon Safe certified, including Athena 2-Row Pilsner & Genie Barley from the Johns Ranch farm in Athena, OR and Walla Walla, Soft White Pale & 102 Wheat from H.T. REA Farming in Walla Walla, WA. Hops are organic Mosaic/Ekuanot blend from Cowiche Valley outside of Yakima, WA. 6.5%
GIGANTIC BREWING – Portland, OR
HopLips – Our HopLips Session IPA is brewed with delicious and juicy Simcoe, Crystal and Brewers Gold hops from Sodbuster Farms and Loftus Ranches. 5.5%
HOPWORKS URBAN BREWERY – Portland, OR
Fresh Hop Goschie Estate Pilsner – Pilsner brewed with Crystal hops and aged on fresh Hallertauer Abiqua hops. The hops and Lyon 2-Row malt all come from a single estate, Goschie Farms in Silverton, Oregon.
Willamette Meridian IPA – The original "Willamette Meridian" was established as a guide for the early Oregon settlers populating this territory. Our version, in beer form, is a guide to using Salmon-Safe ingredients to create the beverage that so many of us enjoy in the Pacific Northwest. We used grain grown in Walla Walla Washington and dosed it with generous amounts of Salmon-Safe Crystal, Azacca, Meridian and Willamette hops. 6.5%
LOOWIT BREWING – Vancouver, WA
Steelhead Reserve IPA – Floral and Citrus notes abound in this IPA that is as refreshing as a swim upstream. Chinook, Centennial, Willamette, Columbus and Amarillo hops spawn a unique bouquet. Hops come from Indie Hops and Crosby Hop Farm. 5.7%
MATCHLESS BREWING – Tumwater, WA
Area 13 – Salmon Safe DIPA with Crosby hops and Mainstem Malt. 8.5%
NEW BELGIUM BREWING CO. – Fort Collins, CO
NBB Salmon-Safe IPA – IPA with Mainstem Malt and Nugget, Strata, Columbus, and Azacca hops from Goschie Farms and Roy Farms. 7%
QUIRK BREWING – Walla Walla, WA
Bigger on the Inside IPA – This IPA incorporates the full, nutty malt flavor of Mainstem Genie Pale malt with a blend of Azacca, Amarillo, Centennial and Crystal hops from Crosby Hop Farm for a delicious aroma of Pineapple and Citrus. 6.5%
SIERRA NEVADA BREWING CO. – Chico, CA
Lemon Drop IPA – Citrus forward IPA brewed with lemon peel and salmon safe ingredients. Brewed with Mainstem Pale Malt grown in Walla Walla and hops from Crosby Hop Farm & Yakima Chief Hops. 6.4%
STOUP BREWING – Seattle, WA
Fish Dancer IPA -This NW style IPA has a light, malt base. The beer is bittered with Bravo, whirl-pooled with Mosaic and dry-hopped with Experimental Hop HBC-692 & Citra for a burst of fruity, tropical, hoppy goodness. Our Salmon Dancer IPA is inspired by the Columbia River which connects to the rivers & tributaries feeding the WA & OR farms where our 100% Certified Salmon-safe ingredients were sourced.7.5%
TRAP DOOR BREWING – Vancouver, WA
Funk The Jewels – Hazy Farmhouse IPA with Amarillo, Azacca and Centennial Hops from Crosby Hop Farm. 6.8%
WIDMER BROTHERS BREWERY – Portland, OR
Hooks and Spillways IPA – The Widmer Brothers Innovation Team brewed up a 10 barrel batch utilizing ingredients from some of our favorite Salmon-Safe partners. 100% Mainstem pilsner malt from Goschie Farms, and three hop varietals (Azacca, Columbus, and Experimental Hop #527) from Roy Farms. 6.2%
WORTHY BREWING – Bend, OR
Call of the Wild – Lemon & lime citrus hop aromas meet with biscuit and sweet wheat flavors in this highly attenuated brew. The malt all comes from Mainstem and the beer is dry-hopped with Chinook and Cascade hops from Indie Hops and Azacca from Roy Farms. 5.8%
YACHATS BREWING – Yachats, OR
Huntress – Pink Guava IPA with hops from Crosby Hop Farm. 6.2%